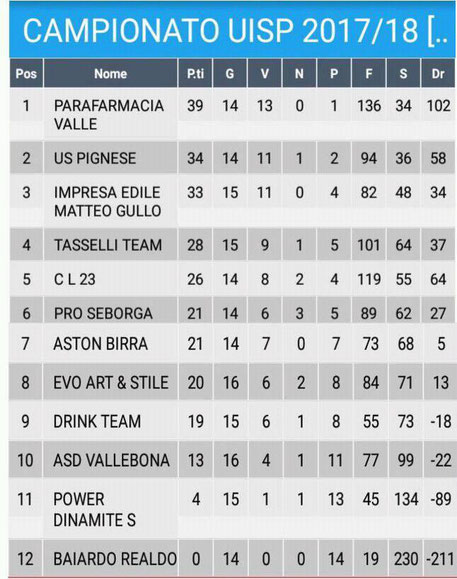 Sconfitte contro Parafarmacia Valle ed Aston Birra e vittoria contro Power Dynamite per il Pro Seborga impegnato al trofeo UISP di Vallebona! Appuntamento domani alle 20 contro Tasselli Team per la 17a giornata! 
Mercoledì alle 21 ultima giornata di regular season invece per l'altro gruppo del Pro Seborga impegnato al torneo del PalaBarabino di Sanremo! Ecco alcuni highlights con la punizione-bomba di Altin Boci, le reti di Emanuele Milone e Marco Spinella e la parata del rigore da parte di Sergio Balestra…
Two loss vs Parafarmacia Valle and Aston Villa and a victory vs Power Dynamite for Pro Seborga at UISP Trophy in Vallebona. Next match tomorrow 8pm vs Tasselli Team!
Next wednesday last match in regular season for other group of Pro Seborga at PalaBarabino Trophy in Sanremo. Here some highlights with the great free kick by Altin Boci, the goals by Emanuele Milone e Marco Spinella and the penalty stopped by our goalkeeper Sergio Balestra